PUBLICATIONS/MEDIA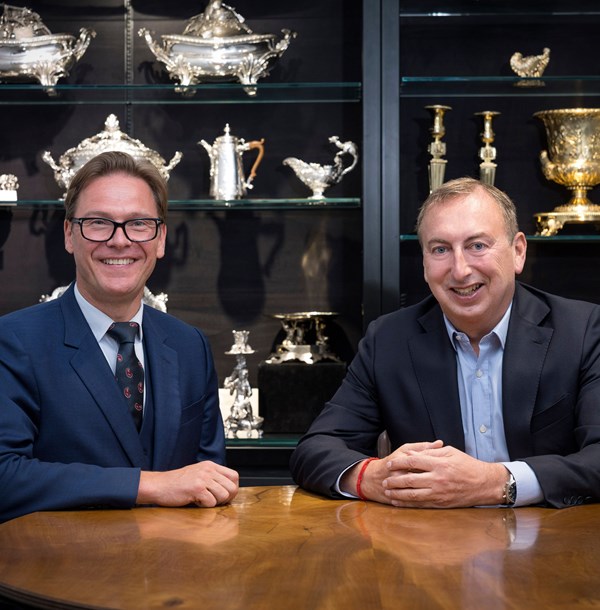 ABOUT US
Koopman Rare Art is one of the world's leading dealers specialising in antique silver, gold boxes, jewellery and objets de vertu. The company was founded by brothers Jacques and Eddy Koopman in 1952 and, after trading at the entrance to The London Silver Vaults on Chancery Lane since 1969, Koopman Rare Art has now moved to Mayfair. We specialise in antique English silver, seeking the finest quality works by artisans such as the Royal Goldsmiths Rundell Bridge & Rundell. Additionally, we also have a keen eye for Chinese, Modern and Continental silver.

Lewis Smith and Timo Koopman, directors of Koopman Rare Art, share a wealth of knowledge and expertise. Together they source the highest quality objects by some of the leading master craftsmen in silver, such as Paul Storr, Paul de Lamerie and Benjamin Smith. Koopman Rare Art values the importance of provenance, history and research, and we pride ourselves on thorough academic study in order to provide clients with works of the finest quality, design and condition. We work closely with collectors providing professional advice, free shipping around the world and information on care management. If you have an interest in antique silver, be it idle curiosity or a hunger for owning the best, Koopman Rare Art are always happy to welcome you.

As London's pre-eminent antique silver dealers we have also formed some of the most celebrated collections of antique silver in the world, including those of His Excellency Mahdi Mohammed Al Tajir and the private collection of Australian businessman Kerry Packer. In addition, we have sold and continue to sell important antique silver to major museums and institutions including the Metropolitan Museum of Art in New York and the Victoria and Albert Museum in London.

Koopman Rare Art have an international client base, regularly visiting collectors in the Americas, Asia and Europe. We also have a major presence at annual antique fairs across the world; Masterpiece in London, TEFAF Maastricht, Fine Art Asia Hong Kong and TEFAF New York Fall. Keen to share our love for silver, Koopman have hosted several exciting loan exhibitions at the gallery in London, including 'Art in Industry: The Silver of Paul Storr' in October 2015. The exhibition provided a fascinating insight into Paul Storr's achievements, with the catalogue supporting the Victoria & Albert's acquisitions fund.