BACK TO LIST
Koopman's Kunstkammer: A Cabinet of Curiosities
Where would it be possible to find a Narwhal horn, taxidermy crocodile, piece of coral, marble, jasper, paintings, portrait miniatures, preserved animal specimens and a nautilus ?
Travel back in time to Renaissance Europe and you could find this assortment of objects in collections belonging to some of the most important rulers of the time. Traditionally referred to as cabinets of curiosities, these collections were not necessarily displayed in cabinets in the modern sense of the word but in rooms. Also known in the German language as Kunstkammers or Wunderkammers.
Cabinets of curiosities were not just collections for the owner to contemplate, appreciate and study but acted as an symbol of status. Many princely collections were built for aesthetic pleasure to show off the owner's wealth and status to visiting diplomats. Other collections were built for scientific study as a collection of pure curiosity and wonder.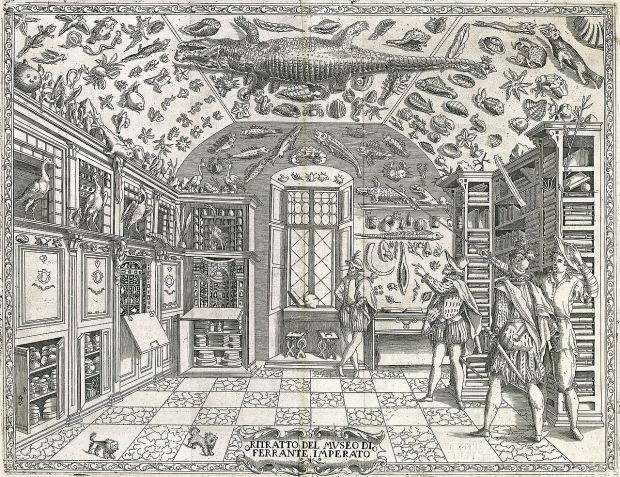 Engraving from Ferrante Imperato, Dell'Historia Naturale (Naples 1599)
One of the first known depictions of a Kunstkammer is Ferrante Imperato's Dell'Historia Naturale engraving made in 1599. The engraving shows in great detail secret cupboards and shelves holding the weird and wonderful. Fish and sea animals are illustrated across the ceiling and taxidermy birds sit in alcoves along the left hand wall. One of the most famous cabinet of curiosities was that which belonged to Rudolf II, Holy Roman Emperor. Unfortunately, the true understanding of the Kunstkammer is difficult to imagine as it was plundered in 1649 by Swedish forces. However, the list of objects noted at the time gives us an insight into the types of objects collected and also the scale of the collection including 600 vessels of agate and crystal and more than 300 mathematical instruments. Rudolf II was particularly interested in animal specimens and had many taxidermy and preserved specimens including chameleons, birds of paradise and fish. If it was not possible to get his hands on the specimens he employed court painter Daniel Froschl to paint a picture just like this unicorn.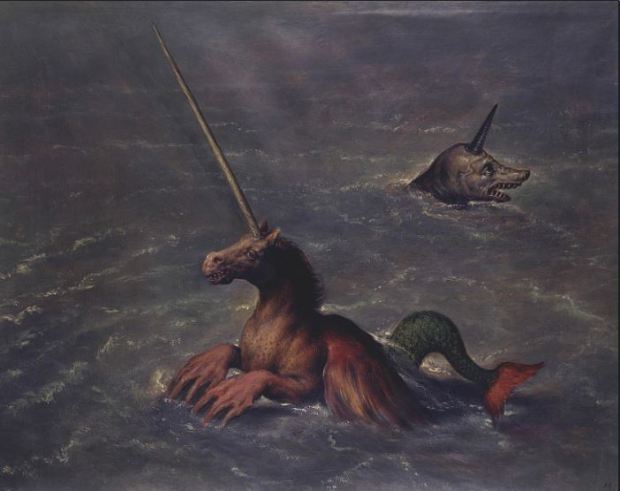 Sea-unicorn, from Rudolf II's *Bestiarium*, 1607–1612, Courtesy of Österreichische Nationalbibliothek
Other famous kunstkammer's include the studiolo of Francesco I de'Medici and the Grand Duke of Tuscany's collection held in the Tribuna at the Ufizi Palace which was recorded by Johan Zoffany in 1772.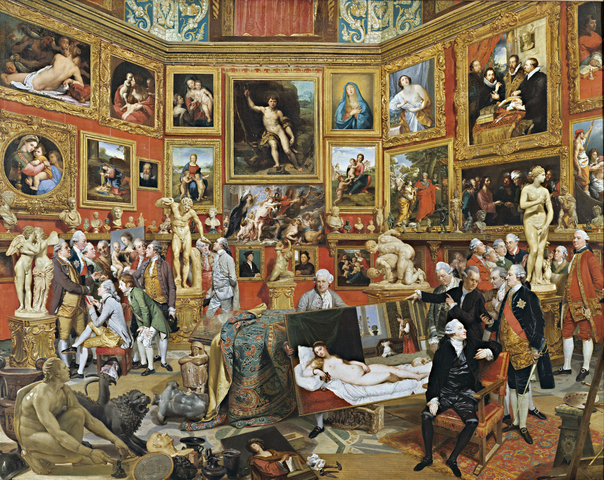 Johann Zoffany, The Tribuna of the Uffizi, Oil on canvas. Courtesy of The Royal Collection
At Koopman we have created our very own Kunstkammer displaying some of our favourite objects, scroll down to read more about each of the objects.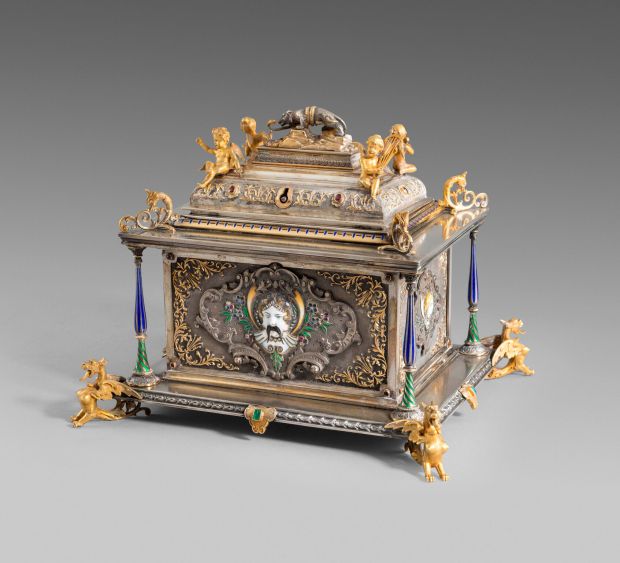 A 19th Century Jewel-Set Casket
Silver, gold, enamel and jewels
Probably German, circa 1860
Length: 7.25in, 18.4cm
The sides mounted with enamel masks surrounded by jewels, the domed cover mounted with gold putti representing the arts. The finial, a gold and silver lion wrapped with a serpent. The casket itself supported by four gold dragons The casket's lock operated by a gold key.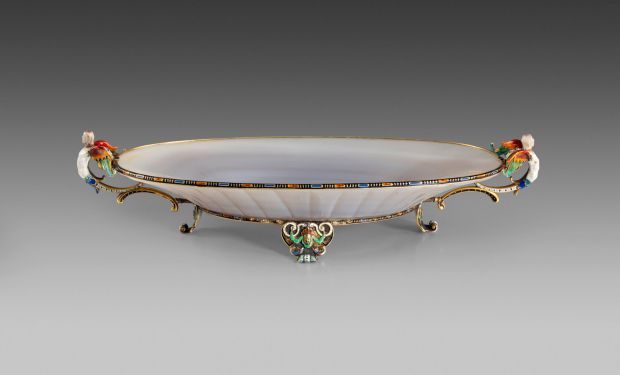 A 19th Century Gold, Enamel and Agate Dish
Gold, enamel & agate Circa 1870
Length: 9.5in., 24.2cm
Rothschild Collection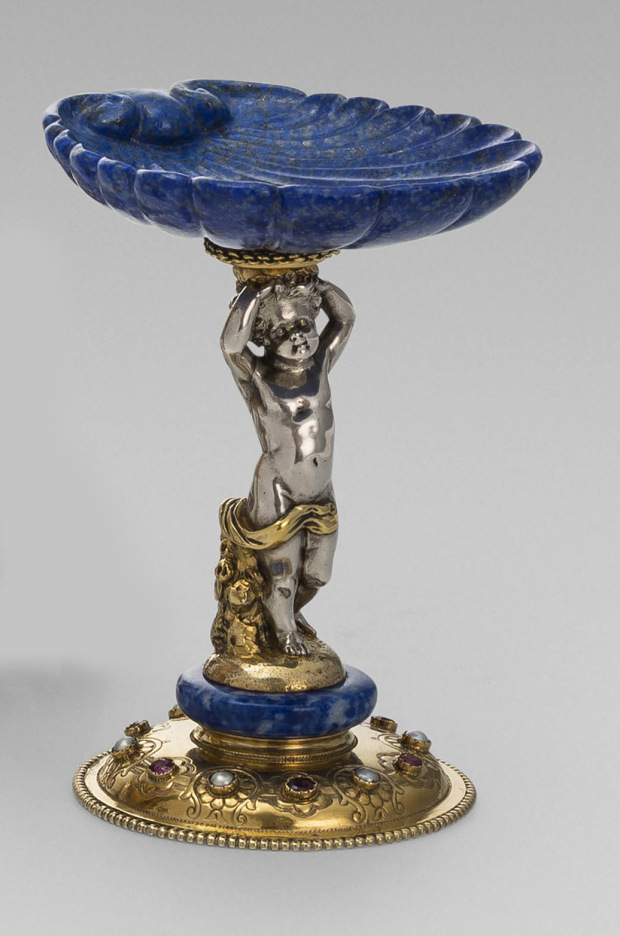 Jules Wiese (1818 – 1890)
A French Gem-Set Parcel-Gilt Lapis Lazuli Tazza
Paris, Circa 1860 Maker's Mark Of Jules Wiese
Height; 3 1/2 in. (8.8 cm.)
In the Renaissance style, the circular foot set with faceted foiled gems and pearls, the stem cast with a putto modelled standing upon a lapis lazuli socle, raising aloft a lapis lazuli shell-carved bowl, marked on foot.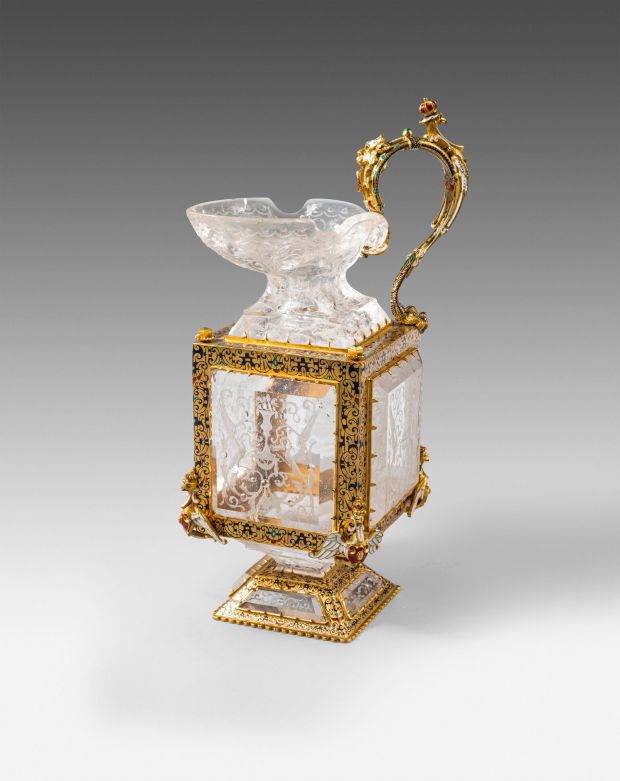 A Late 19th Century Silver-gilt, Enamel & Rock Crystal Viennese Ewer
Vienna circa, 1880
Height: 19.5cm, 7.6in
The ewer with rock crystal panels engraved with gryphons among foliate scrolls, the ewer of square section with enamelled silver-gilt crowned gryphons in high relief.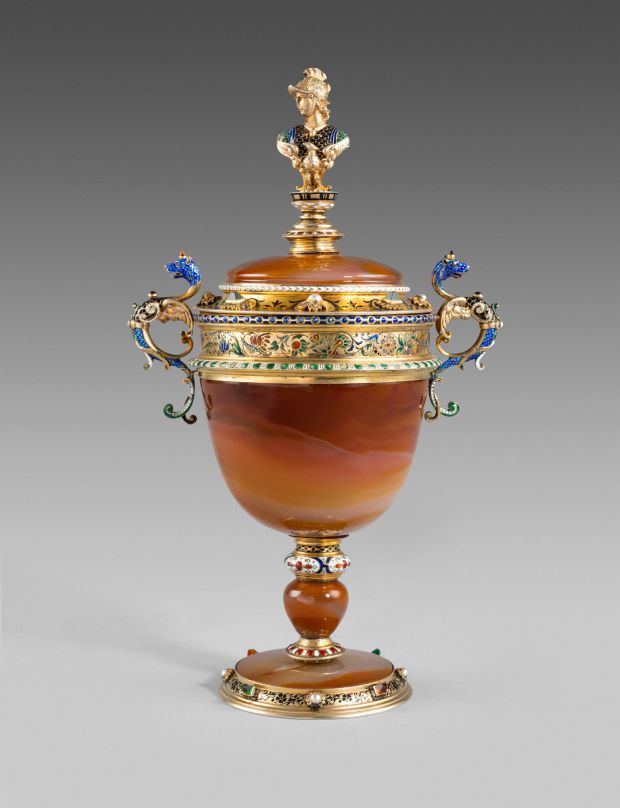 Rudolf Mayer
A Spectacular German 19th Century Two-Handled Cup and Cover
Silver-gilt, agate, enamel, pearls and precious gems Frankfurt, circa 1887 Modeller & chaser: Rudolf Mayer Enameller: E Schurmann
Height 8 5/8in., 22 cm
The cup exquisitely modelled and chased by Rudolf Mayer who was based in Karlsruhe at this time. The cup was then mounted and enamelled by E. Schurmann in the Renaissance style.
The rim of the cup enamelled with champlevé insects and birds within flowers. The handles formed as winged grotesque mythical beasts. The cover with a Minerva bust finial. The whole cup set with faceted gems and pearls.
These works are available to view in our gallery located at Koopman Rare Art, The London Silver Vaults, 53/64 Chancery Lane, London, WC2A 1QS or on our website www.koopman.art.
For all enquiries please do not hesitate to call or email on:
0207 242 7624 / info@koopmanrareart.com