BACK TO LIST
Tiffany: Sumptuous Silver of America
Tiffany & Co. was founded in New York in 1837, the same year as Queen Victoria's succession to the throne. Queen Victoria's reign from 1837 to 1901 was so dominant during the last half of the nineteenth century this period has become known in America as American Victorianism. It marked the start of a true age of silver.
Up to the Civil War silver had been sparse but from 1860 mines were digging for treasures and production increased dramatically. In 1860, 116,000 ounces of silver were mined in the U.S. by 1861 this figure jumped to 1.5 million ounces and by 1900 57 million ounces. High production resulted in a drop in the price of silver. Inevitably popularity increased and silver for the home became highly fashionable. Middle-class families found the material not only useful for kitchen and dining accessories but also as a status symbol.
Charles Louis Tiffany, son of a millworker founded the company with John B. Young in New York, proudly announcing the start of Tiffany & Young in 1837. Young had already settled in New York running a stationary shop when Tiffany joined him. Their business venture was a great success from the get go. They focused on branding themselves as a stationary and fancy goods emporium. By the 1850s they had venture into diamonds, jewels and silver. They built a close relationship with John C. Moore who became their silversmith making silverware to retail. When Moore retired his son, Edward took over the role. Tiffany also employed a number of other silversmiths to work alongside them and build the company across America and into Europe.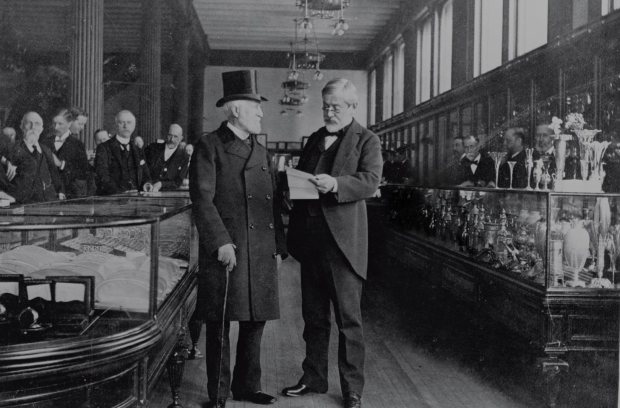 Founder Charles Lewis Tiffany had an abiding passion for the most beautiful diamonds in the world
One of the most important services made by Tiffany in the nineteeth century was the Dinner and Dessert service for Twenty-four persons for John W. Mackay, an Irish-American industrialist. Mackay's service consisted of 1,250 pieces made from half a ton of silver sent direct from Mackay to Tiffany from his Comstock Lode mine of Virginia City, Nevada. Charles Grosjean of Tiffany designed the service and Edward C. Moore supervised the project. Charles Carpenter in his volume Tiffany Silver notes that as 'the largest, the grandest, the most elegantly ornate and most famous set of its time, the Mackay service epitomized the sumptuous dining table of Victorian America'. This impressive centrepiece was one of the objects made for the service in 1878.

Plate Centrepiece from the Mackay Silver Service
Another iconic example of ornate and elaborate silver created by Tiffany in the Victorian taste was The Magnolia Vase manufactured by Tiffany & Co. around 1893. The design was made by John T. Curran and it is a magnificent amass of silver, gold, enamel and opals. The piece was exhibited at the Chicago World's Columbian Exposition of 1893. Curran drew inspiration from Native and Lation American sources. The form reflects the shapes used in Pueblo pottery and the handles relate to Toltec artifacts . The plant motifs were added to represent the different vegetations in the United States.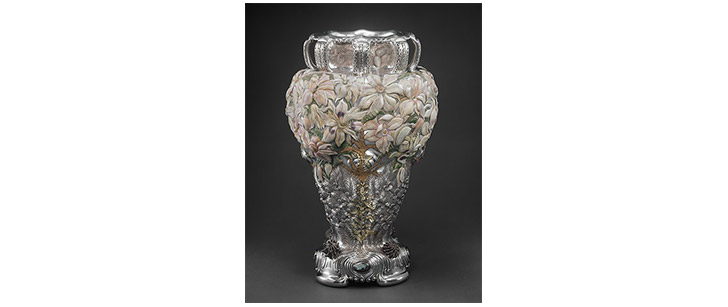 At Koopman Rare Art, we are showcasing a wonderful example of Tiffany silver dating from 1890s. This parcel-gilt centrepiece was made in New York in 1895 and carrries the maker's mark of Tiffany. The round form is perched on four paw feet. The interior gidled with script initials 'M.A.', and the border decorated with and ovolo and foliate design.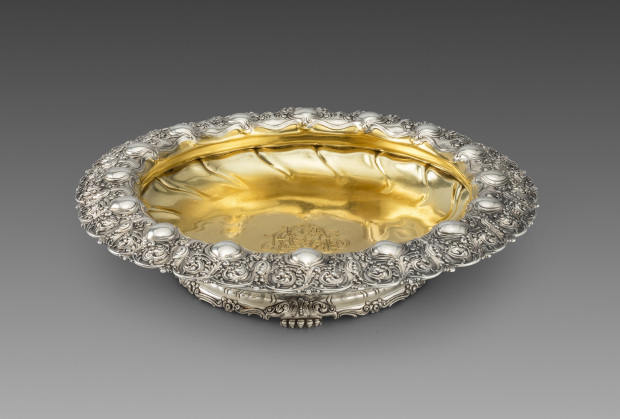 Tiffany & Co., An American Centrepiece, Parcel-Gilt
New York, circa 1890
The nineteenth century was a period of great change and expansion especially in America. With silver becoming more popular interior taste changed with the trend. Dining rooms became crowded with objects, simple silver was too plain and elaborate, intricate designs were sort after more and more. The taste for elaborate and decorated silver became the Victorian taste and Tiffany recognised this demand. It was common to see eighteenth century plain pieces of silver repoussed with ornamentations by Victorian silversmiths who rejected the plain simple designs of the past. However, at the turn of 20th century there was a rejection of Victoriana in America. A new movement of was generated to simplify. Cubists, fauvists, Frank Llyod Wright and German Bauhaus all contributed to the rejection of Victorian taste as they moved into the 20th century. Tiffany moved with fashion and was soon rejecting Victorian taste producing much more simple designs.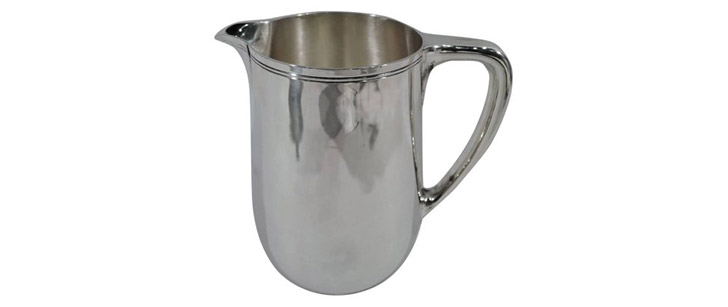 Tiffany, Modern Sterling Silver Water Pitcher, Nelson & Nelson Antique Silver , 1947-1956
Some of these works are available to view in our gallery located at Koopman Rare Art, The London Silver Vaults, 53/64 Chancery Lane, London, WC2A 1QS.
For all enquiries please do not hesitate to call or email on:
020 7242 7624 / info@koopmanrareart.com