BACK TO LIST
Fine Art Asia 2017: Chinese Export Silver
We are looking forward to exhibiting at Fine Art Asia in Hong Kong between 30th September to 3rd October at the Convention & Exhibition Centre. We wanted to preview some of our highlight pieces and provide some information and advice for collectors looking to buy Chinese Export silver.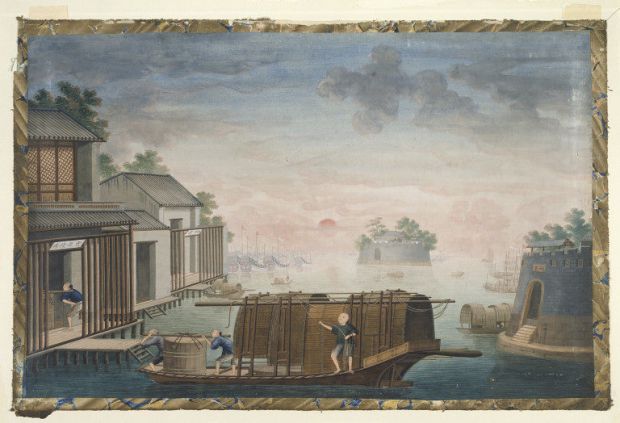 Porcelain arriving at Canton warehouse, Watercolour and ink on paper, Made in Canton circa. 1780. Courtesy of The Victoria & Albert Museum.
During the 18th & 19th centuries China under the Qing Dynasty became one of the major exporter of Chinese goods through the Chinese Canton System selling tea, spices and porcelain. Historically, foreigners would trade in silver for tea, spices and other goods out of China. By 1800 the English East India Company was shipping more than 23 million pounds of tea.
Cum Shing, A Chinese Export Silver 19th Century Canister. For Sale at Koopman
Rare Art.
Chinese export silver is normally 90% silver. It was made of Spanish dollars, the only currency the Chinese would accept for the trading of goods such as tea, silks, spices and tea. Chinese export silver between 1800-1900 was usually quite plain with some simple engraved decoration. However, in order to comply with European Victorian taste Chinese silversmiths began ornately decorating pieces with dragons, landscapes, bamboo and other iconic Chinese symbolism to keep inline with Victorian aesthetic. However, Chinese silversmiths developed their designs in accordance with taste and the growing tourism and desire to explore China. Silversmiths started introducing iconic Chinese symbolism to ornately decorate pieces of silver.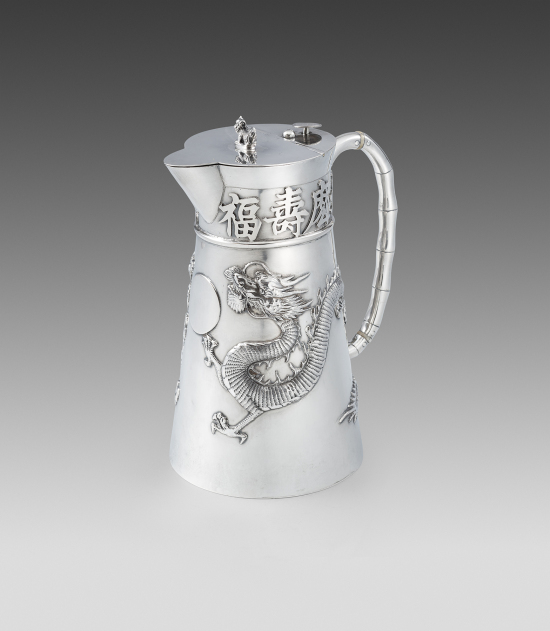 Bao Chang,A 19th Century Chinese Ewer. For Sale at Koopman Rare Art.
Chinese export silver is now very popular. There has been an expansion in the Chinese market for Chinese export silver buying back what was made in their homeland. Items with symbols of the dragon are particularly popular as the dragon represents the Emperor and is therefore very commercial and desirable. Chinese taste in Chinese export silver now dictates the value.
There are a number of things to think about before purchasing piece of Chinese export silver.
Firstly and most importantly do you love the decoration and style ?
Buying a piece of silver is like buying a piece of art. You need to decide whether this is the piece that would suit your home and your collection. Does it fit in your home interior, compliment your living space and enhance your lifestyle?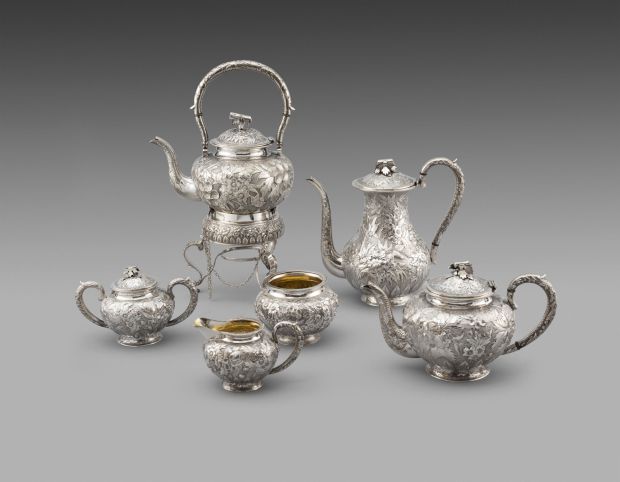 Chinese Six Piece Tea & Coffee Set. For Sale at Koopman Rare Art.
Is the piece hallmarked, if so by who and in what condition are the hallmarks ?
Chinese silver unlike British silver was not regulated and therefore pieces are not always stamped with hallmarks. There was no assay offices or other standard marks to regulate the production of silver in China. Chinese export silver is commonly marked on the base with either an English of Chinese character mark. Chinese silversmiths made up Western sounding names to use as pseudonyms. Chinese export silver is sometimes marked with Chinese characters, English letters or English pseudo hallmarks to imitate the English hallmarks. This was popular as the silver was being exported for the Western market. If you have queries about the hallmarks always feel free to ask.
What is the provenance of the piece ?
Items were commonly engraved with inscriptions. This can be extremely useful in determining the history of a piece. Who did it belong to ? What was their position of power ? What was the date of presentation ? What was the reason for presentation ?
How old is the piece ?
The mid to late 19th century was the most important period of production. Items from this period were the most ornately decorated demonstrating the technical capabilities of Chinese silversmiths. Unlike English silver older is not always better. However, this does depend on your taste.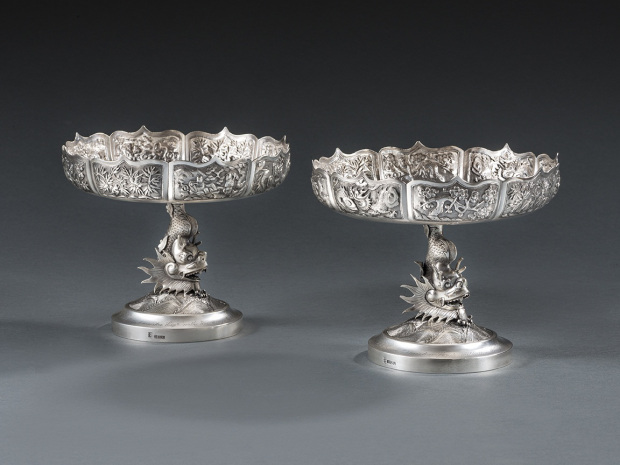 Wang Hing, A Pair of 19th Century Chinese Tazza. For Sale at Koopman Rare Art.
All of these works are available to buy at Fine Art Asia 2017 in Hong Kong or please contact the gallery if you would like to make an enquiry. If you require free tickets to the event please do not hesitate to contact us. Koopman Rare Art, The London Silver Vaults, 53/64 Chancery Lane, London, WC2A 1QS
For all enquiries please do not hesitate to call or email on:
020 7242 7624 / info@koopmanrareart.com