BACK TO LIST
Run Along & Sneer: The Code of Woosters
John Schuppe, An 18th Century Silver Cow Creamer, London 1763. For sale at Koopman Rare Art.
(Pictured above)
On 7th October 1928 P.G. Wodehouse's novel The Code of the Woosters was published as the sequel to Right Ho, Jeeves by Herbert Jenkins and Doubleday, Doran.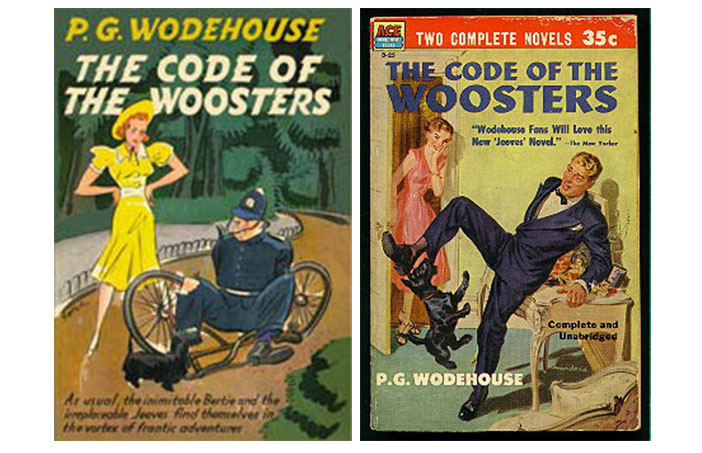 A story tells the tale of the heated competition between two art collectors, both of which desire an especially valuable silver cow creamer.
Bertie Wooster, the narrator of the book, is asked by his Aunt Dahlia to help her source the cow creamer for her husband Tom. A recent unlucky spell had meant he was constantly out bid by other collectors for items he wholeheartedly desired. Aunt Dahlia orders Bertie to visit the antique dealer selling the valuable 18th century silver cow creamer and convince the dealer to knock down the price. However, the butler, Jeeves , suggests a more cunning plan. Bertie Wooster is sent to sneer at the cow creamer and declare it a mere Dutch modern copy in order to push the dealer's price down.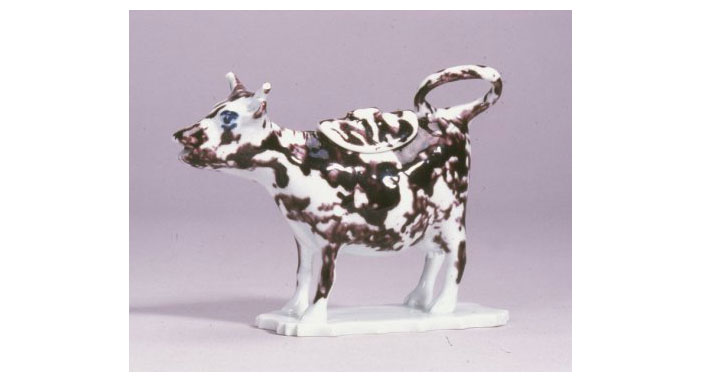 Lowestoft Porcelain Factory, Cow creamer and cover, soft-paste porcelain, circa 1770. Courtesy of The British Museum.
Nonetheless, it does not go to plan bumping into the rival silver collector, Sir Watkyn in the shop. It is revealed that the collector has bought the creamer ahead of Tom Travers and taken it to his residences in Totleigh Towers.
In great despair Aunt Dahlia sends Bertie to recover the cow creamer which is now being guarded in the towers by Roderick Spode and the local police.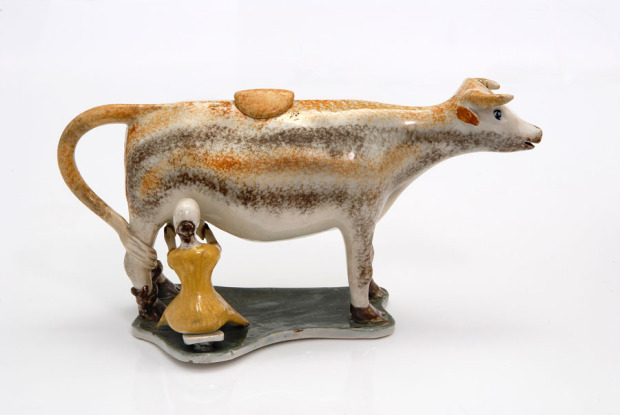 St. Anthony's, Newcastle, Cow Creamer, circa 1790. Courtesy of the Keiller Collection at The Potteries Museum & Art Gallery in Staffordshire.
Wodehouse's novel brings this wonderful novelty cow creamer to light in a amusing tale. The cow creamer is eventually passed to Tom Travers and Bertie Woosters adventures are complete.
The Origin
The earliest examples of cow creamers originated in Holland in the shape of a cow with an opening or lid on its back for filling. From about 1740 these cow creamers became popular in England made in saltglaze stoneware from the Staffordshire potteries. From 1750 English silverware examples were being made. They have continued to be produced in both silver and ceramics. The Potteries Museum & Art Gallery in Staffordshire holds the Keiller collection of 667 ceramic cow-creamers. Some of the finest examples of cow creamers were made by silversmith John Schuppe.
John Schuppe was a Dutch émigré worker in London. In 1753 his mark was entered as largeworker to Little Deans Court, St. Martins Le Grand. By 1755 he was registered to 6 New Rents. Schuppe's mark almost entirely appears on cream jugs modelled in the Dutch taste as cows but is occasionally met with other small fancies such as figure taper-sticks.
John Schuppe, An 18th Century Silver Cow Creamer, London 1763. For sale at Koopman Rare Art.
Some of these works are available to view in our gallery located at Koopman Rare Art, The London Silver Vaults, 53/64 Chancery Lane, London, WC2A 1QS.
For all enquiries please do not hesitate to call or email on:
020 7242 7624 / info@koopmanrareart.com