BACK TO LIST
Stuart Devlin: Creativity is Paramount
Stuart Devlin carving plasters for Australian coins in 1963. Courtesy of The Sydney Morning Herald. (Pictured above)
'I hope that my work reflects four maxims: That future is much more important than the past; That creativity is paramount; That skill is fundamental; And that the justification for being a goldsmith is to enrich the way people live and work.'
Stuart Devlin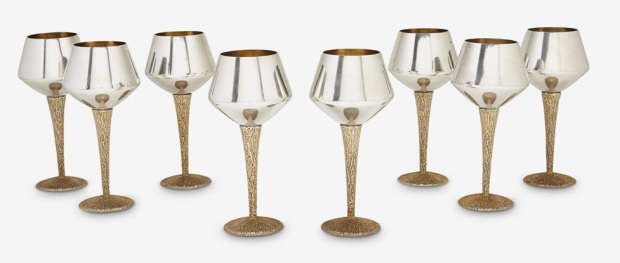 A set of eight Elizabeth II silver & silver-gilt wine glasses by Stuart Devlin, London 1969. Available at

Koopman

Rare Art, please enquire for details.
Today we are celebrating the birthday of Stuart Devlin, the modern day master silversmith, artist and designer. Stuart Devlin was born in Geelong, Australia in 1931. In 1957 he studied for a Diploma of Art in gold and silversmithing at Melbourne college. He was subsequently awarded scholarships to study at the Royal College of Art in London. Devlin continued to excel and after his studies he was awarded a fellowship by the Harkness Foundation of New York and he chose to spend the two year fellowship at Columbia University in USA. In 1962 he returned to Melbourne to teach. In 1964 he won a competition to design the first decimal coinage for Australia. Devlin went on to design coins and medals for 36 countries throughout the world including Singapore, Malaysia and precious coins for the Sydney 2000 Olympic Games.
In 1965 Devlin set up a small workshop in London and began to develop his own style and trademark work. With old silversmithing techniques dying out Devlin endeavoured to develop new techniques and experiment with old techniques to produce different textures and forms, often juxtaposing a simple elegant form with a detailed, intricate silver-gilt decoration. Devlin held annual exhibitions at his workshop in Clerkenwell, each year producing a new collection pushing the boundaries of innovation and design offering over 250 pieces.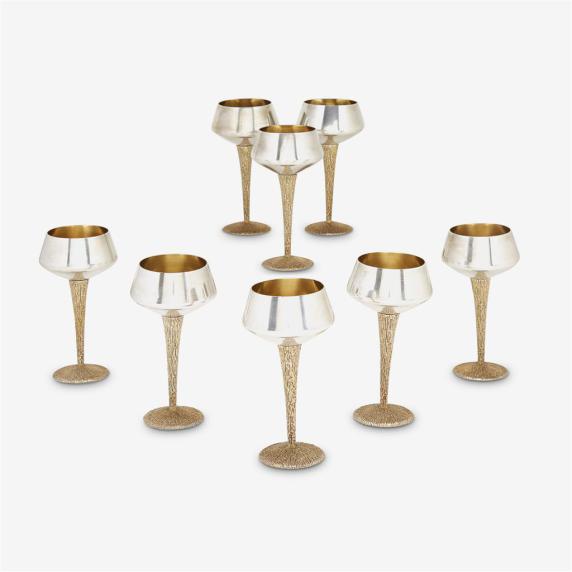 A set of eight Elizabeth II silver and silver-gilt cocktail glasses
Stuart Devlin, London, 1969.
Available at Koopman Rare Art, please enquire for details.
In 1982 Devlin was granted the Royal Warrant of Appointment as Goldsmith and Jeweller to Her Majesty the Queen. Some of his designs are now held in the Victoria & Albert Museum. Limited edition ranges and a steady and consistent output of new designs and collections each year helped establish Devlin as one of the leading contemporary silversmiths. Co-author of 'Designer British Silver' John Andrew explains how Devlin became bored with Bauhaus and Scandinavian design and Devlin wished to invigorate 'smithing with richness and romanticism'. At its peak his studio employed 60 craftsmen and produced thousands of objects of all sizes and price ranges.
'He mixed gold and silver, introduced filigree, tactile surfaces instead of just plain silver. He cut the chains of tradition. He was really very radical.' John Andrew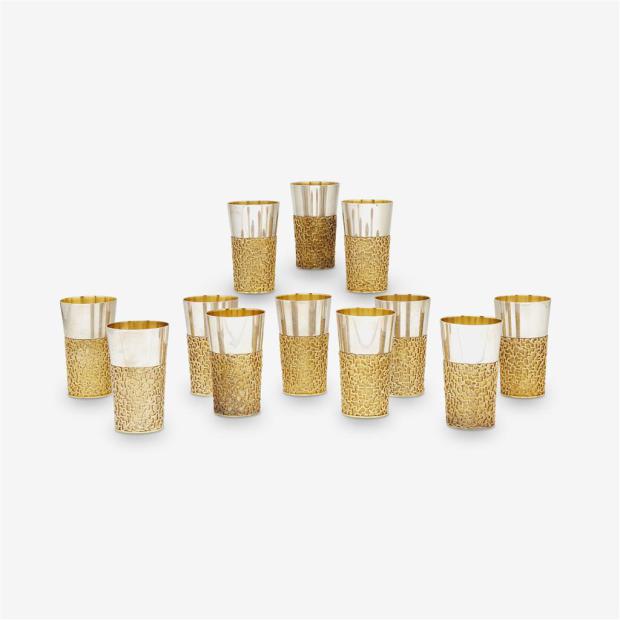 A set of twelve Elizabeth II silver & silver-gilt small beakers by Stuart Devlin, London 1968-69. Available at Koopman Rare Art, please enquire for details.
One of Devlin's most iconic and important commissions was the Millenium Dish. The dish was a celebration of the city of London illustrating 85 iconic buildings which represented London in 2000 around the rim of the dish. The dish was made for the Goldsmith's company and was therefore decorated with the company's coat of arms in the centre of the dish. Inscribed with the words 'In the celebration of the Millenium, The city of London and the ancient craft of goldsmithing.'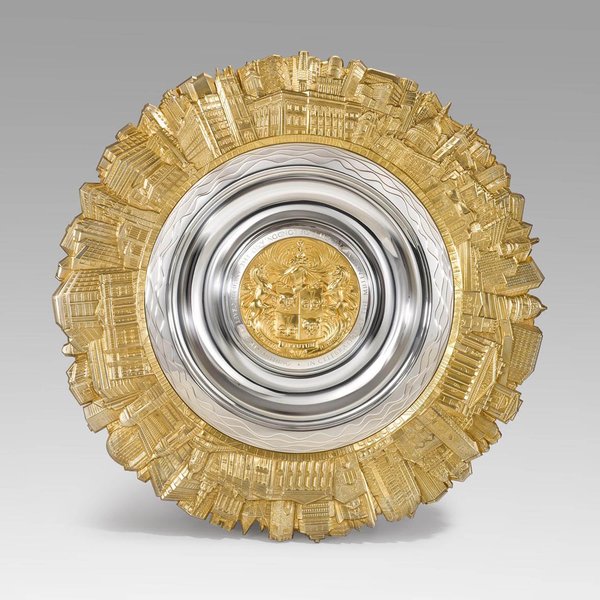 1999 Millennium Dish by Stuart Devlin. Courtesy of the Goldsmith's Company.
At Koopman Rare Art we hold a large stock of works by Stuart Devlin. Please do not hesitate to contact us for any further information or availabity. These works are available to view in our gallery located at Koopman Rare Art, The London Silver Vaults, 53/64 Chancery Lane, London, WC2A 1QS.
For all enquiries please do not hesitate to call or email on:
020 7242 7624 / info@koopmanrareart.com