BACK TO LIST
KRA's Guide to Terms & Techniques: The Intricacy of Guilloche
Alexander James Strachan, A George III Gold Engine Turned Snuff Box, Marked 18ct, London, 1818. Available to Purchase at Koopman Rare Art.
(Pictured above)
Guilloche or engine turning is the term given to very fine, intricate geometric patterns which are mechanically engraved into soft materials such as wood, ivory, silver and gold. The machine used to produce this effect is called a lathe which uses a rotating drive which turns the piece being worked on against changeable cutting tools. A rose engine lathe was introduced later, which allowed for more intricate design and repetition of motif.
This precious bound book has been decorated using a rose engine lathe. It creates a mesmerizing effect across the gold box.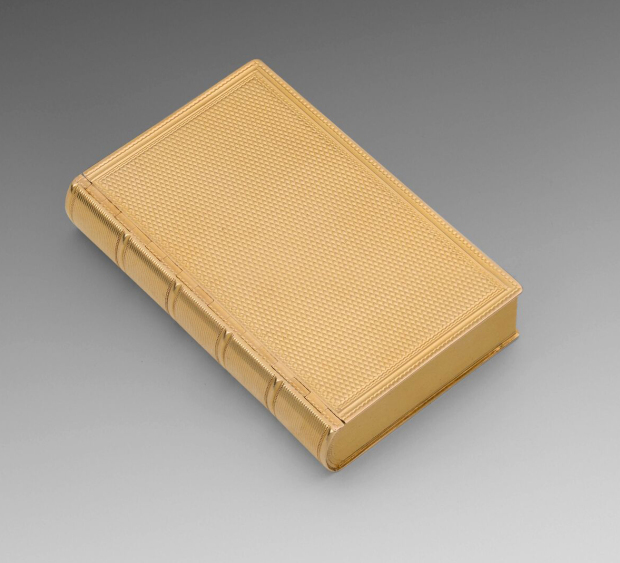 Alexander James Strachan, An Exquisite Georgian Book Snuff Box, Marked 18ct, London, 1803. Available to Purchase at Koopman Rare Art.
Engine turning can be traced back in history as far as the 15th century and is believed to have been first practiced on ivory and wood. However, the practice rose to prevalence in the European courts in the 17th century, 18th & 19th centuries. It was common for royal courts to have dedicated rooms for turning where skills could be watched for education and entertainment.
Some of the most prestigious designs made by lathes have come from the workshops of rulers including Maximilian I of Austria, Tsar Peter the Great of Russia, Louis XV and King James I among a long list of others. Guilloche on metal is believed to have begun between 1700-1750. Guilloche on gold and silver became particularly popular in the mid to late 19th century peaking between 1880-1930. In particular Faberge was renowned for intricate and extensive guilloche that was used on the backgrounds of transparent enamels to create a gem like glow and optical spectacle. This technique was used by Karl Faberge to create his iconic eggs for Tzar Alexander III of Russia. The rose engine cut a series of parallel lines into the metal surface onto which the enamel was applied.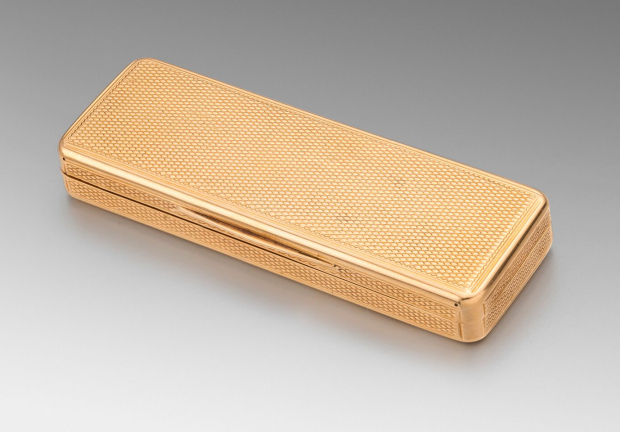 Alexander James Strachan, A Georgian Toothpick Case, Marked 18ct, London, 1815. Available to Purchase at Koopman Rare Art.
Alexander Strachan
One of the most renowned goldsmiths working with guilloche to the most unprecedented standard was Alexander Strachan (1774-1850). Strachan registered his mark as a smallerworker at the Goldsmith's Hall on 21st September 1799 whilst he was living at Long Acre in London. His insurance policy of 1824 descirbed him as a 'Jeweller and Engine Turner'. Strachan was the principle supplier of gold boxes to Rundell, Bridge & Rundell who were the royal goldsmiths. Strachan also supplied the retailers Thomas Holland and Coward & Smith. In 1839 he retired to Brighton where he struggled financially before finally passing in 1850.
This gold oval snuff box is decorated with a central cartouche encircled by a laurel and filled with a four colour gold relief of an allegorical scene of music. The whole box is engine turned with laurel borders of swags and rosettes. The sides of the box with roundels topped with white gold ribbons depicting scenes of musical instruments.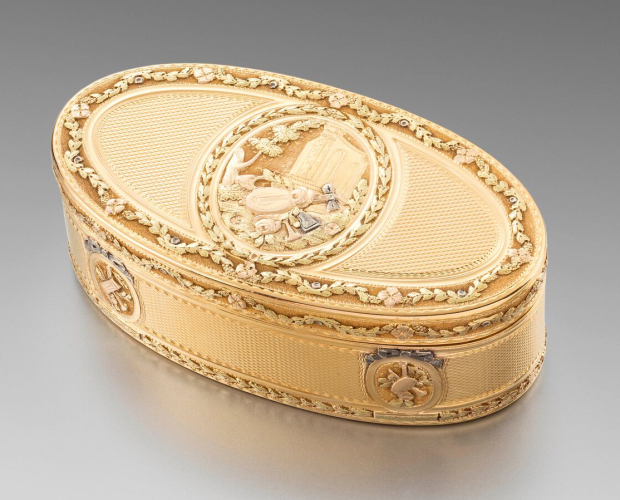 Charles Le Bastier, A French Vari-Colour Oval Gold Box, Paris, 1778/1779. Available to Purchase at Koopman Rare Art.
Guilloche, the popular engraving technique was used for snuffboxes, jewellery and watches. Snuffboxes were ornamented boxes for holding snuff, a powdered tobacco. It was common practice in 17th century England to sniff or inhale a pinch of snuff. By the 18th century the practice had spread to other European countries. They were designed to either fit in the jacket pocket of a gentleman or be displayed on the dinner table for guests. It was an opportunity to illustrate your wealth and prestige through the quality and design of your snuff box. Top quality snuff boxes were made of gold and were sometimes decorated with portrait miniatures, enamelling, micromosaics or jewels. Snuff boxes were commonly decorated with engine turning and below we are exploring the different types of engraved designs engine turning could achieve. There are two main patterns of engine turning, rose engine and straight line. Here are a number of examples: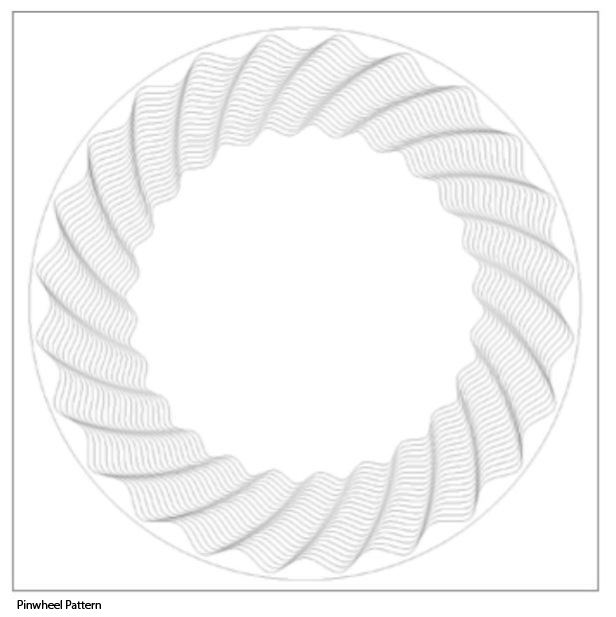 Here is a French gold snuff box made in Paris 1789 By Jean Edme Julliot. It is a canted rectangular form with engine decorated border with lattice panel of beaded and rose head decoration. The lid has been engine turned using a consecutive cut pattern as shown in the diagram below, a series of wavy lines which run parallel to one another.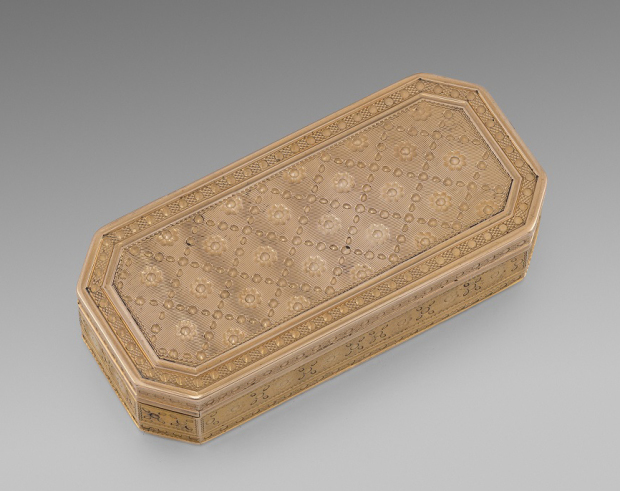 A French gold snuff box , Paris 1789 By Jean Edme Julliot marks to lid and base, of canted rectangular form with engine decorated border with consecutive cut engine turn pattern on lid. Available to Purchase at Koopman Rare Art.
Engine Turning Patterns. Courtesy of G. Phil Poirer. Follow link for an extremely interesting article on the history of guilloche.
To seen engine turning in progress take a look at the video below courtesy of Rio Grande.
All of these works are available to view in our gallery located at Koopman Rare Art, The London Silver Vaults, 53/64 Chancery Lane, London, WC2A 1QS or on our website www.koopman.art
For all enquiries please do not hesitate to call or email on:
020 7242 7624 / info@koopmanrareart.com