BACK TO LIST
Guilty Pleasure: Sumptuous Silver-Gilt
Joseph Preedy, An Important Pair of Royal George III Wine Coolers, Silver-gilt, London, 1801. Available to Purchase at Koopman Rare Art.
(pictured above)
Man has long been fascinated with the glitter of gold but its high cost and great softness rendered it impractical for many purposes. Demand for gold drove silversmiths to devise methods of applying gold to silver in order to finish objects with a luxurious radiance. Silver dipped or plated in gold is called silver gilt or vermeil in French.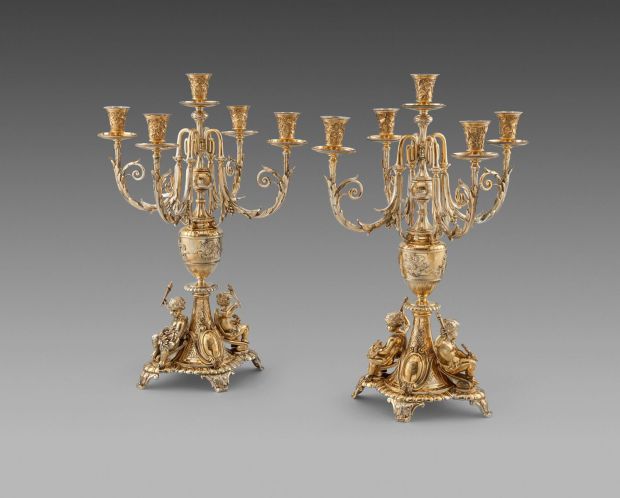 Elkington & Co., A Fabulous Pair of 19th Century Candelabra, Silver-Gilt, Birmingham, 1889. Available to Purchase from Koopman Rare Art.
The process of gilding has developed through the ages and differed across the globe. In pre-Columbian South America Incas used depletion gilding by producing a layer of nearly pure gold on an object of gold alloy by the removal of other metals from its surface. Another popular ancient process, mentioned in Homer's Odyssey, was the method of overlaying or folding of gold leaf. Fire gilding with mercury was another process, which involved applying an amalgam of gold and mercury to the silver surface. The heat caused a strong bond between the gold and silver. This process was commonly used from the sixth century BC until quite recently. Electroplating has now taken over from this process using electrolysis to coat the surface with gold.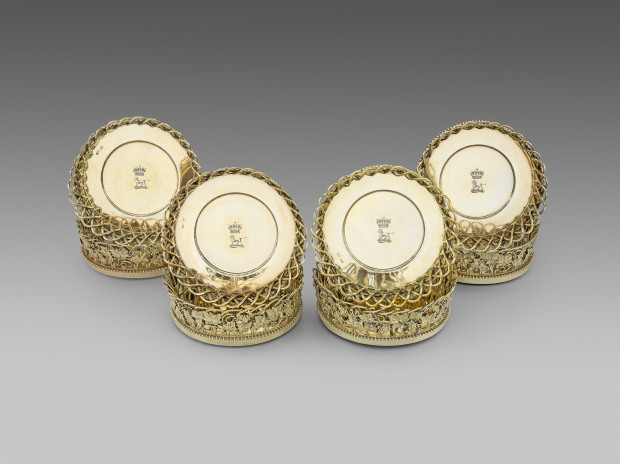 William Burwash, The Talbot Wine Coasters, Silver-Gilt, London, 1817. Available to Purchase at Koopman Rare Art.
The process of gilding, however was costly. While in 1664 Samuel Pepys complained that the cost of 'fashion' or the making of a piece, had risen to the same level as the raw material itself (both were 5 shillings an ounce) gilding the finished article could cost an additional 3 shillings an ounce. Gilding added approximately 25 percent to the total cost; this was considerably more than commissioning an object in silver yet still less than one in gold. By the Middle Ages European gold was worth ten to twelve times more than silver but by the eighteenth and nineteenth centuries the price ratio had risen to fifteen to one. Even so achieving the golden look through gilding became ever more popular.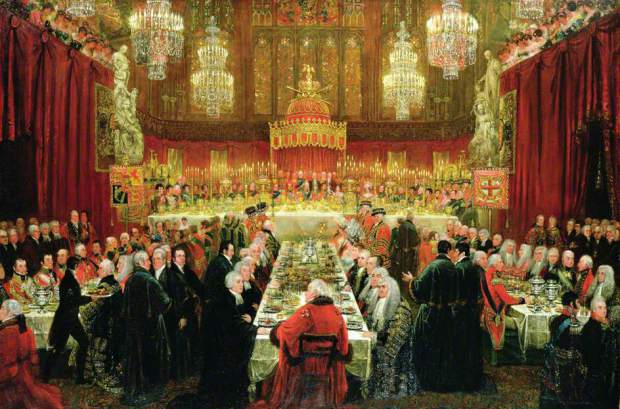 Luke Clennell (1781–1840), The Banquet Given by the Corporation to the Prince Regent, the Emperor of Russia and the King of Prussia, 18 June 1814 (The Allied Sovereigns' Banquet). Displayed at The Guildhall Art Gallery, Courtesy of the City of London Corporation.
Silver gilt objects were often used as status symbols as exemplified by this painting of the guildhall banquet by Luke Clennell held in 1814 for the prince regent the Tsar of Russia and the King of Prussia. One dinner service is in silver gilt the other quite intentionally in silver – superior guests presented with silver gilt and the less important with silver!
Another important service is The Grand Service held in the Royal Collection. This magnificent silver-gilt dining service was commissioned by George IV. It is made up of over 4000 pieces for dining and display made by Rundell, Bridge & Rundell costing £60,000. The Grand Service is used today for all state banquets. Watch the video below taken from within Buckingham Palace showing the ballroom being prepared for a state banquet with the beautiful and elaborate silver-gilt Grand Service.
Some of the most famous silver-gilt services throughout history belonged to General Count Francois Xavier Branicki, Count Nikolai Demidoff and the Borghese service. At Koopman Rare Art pieces from these three collections have passed through the doors and are most certainly some of the most impressive pieces of antique silver. The popularity for silver-gilt soar on both sides of the channel and important silversmiths such as Maison Odiot, Martin Guillaume Biennais, Benjamin Smith and Paul Storr were leading the way.
On a more practical note silver-gilt tarnishes at a slower rate, it is lighter in weight than pure gold and much more durable. Sometimes for this reason the inside of silver pieces would be lined with gold a design called parcel-gilt like these salts by Philip Rundell to help preserve the inside from acid corrosion and tarnishing.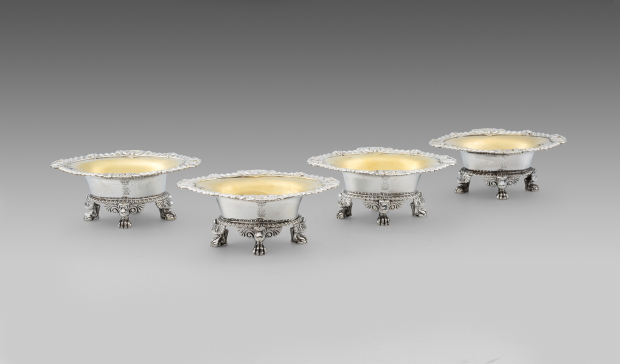 Philip Rundell (1746 – 1827), A Set of Four George III Silver Salts, London, 1819. Available to Purchase from Koopman Rare Art.
Take a look at our collection of silver-gilt on our website to see the range of pieces we have for sale.
All of these works are available to view in our gallery located at Koopman Rare Art, The London Silver Vaults, 53/64 Chancery Lane, London, WC2A 1QS or on our website www.koopman.art.
For all enquiries please do not hesitate to call or email on:
0207 242 7624 / info@koopmanrareart.com