BACK TO LIST
The Charles Mercer Ewer: A Gift From The King
Sir James Mercer, whose London house was in Axe Yard, Westminster (where Samuel Pepys lived between August 1658 and July 1660), was appointed Gentleman usher to Charles II in January 1661. Gentlemen Ushers originally formed three classes: Gentlemen Ushers of the Privy Chamber, Gentlemen Ushers Daily Waiters, and Gentlemen Ushers Quarterly Waiters. The number of ordinary ushers of these classes were fixed at four, four, and eight, respectively, but ushers "in extraordinary" were sometimes appointed. Mercer was a Gentleman Usher Daily Waiter.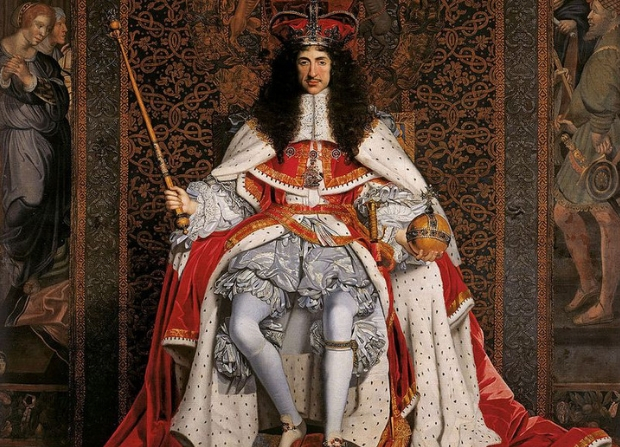 John Michael Wright's portrait of King Charles II, in the Royal Collection
Legend has it that ondemned one of his grooms to be hanged for stealing a bowl of corn. The man was hanged on an old tree and with his dying breath, uttered the curse that the Mercers would have no male heirs for 19 generations. Sir James' son Charles, godson to the king, was born and died in 1667. His sister Jean became heir to her father in 1672 but died the same year. Her sister Grizell became heir but died unmarried in 1706. Another sister, Helen, then became heir and married a cousin, Sir Laurence Mercer of Melginche. Their son James Mercer, became heir upon his mother's death in 1720, but died the same year. His sister Jean became heiress and married Robert Murray Nairne. He was killed at the battle of Culloden as Colonel Mercer, having adopted the name. Their son, James Mercer of Aldie, became heir in 1750 but died unmarried in 1758. His brother William became heir in 1759 but he and his wife Margaret had no sons. Their daughter Jane became heir and married George Elphinstone, Viscount Keith, and they had a daughter Margaret Mercer Elphinstone, Baroness Keith and Nairne, who married Auguste Charles Joseph, Conte de Flahaut, and they only had daughters. Their daughter Emily Jane married Henry, the 4thMarquess of Lansdowne, who took the name Mercer Nairne and they had a son, the 5th Marquess of Lansdown, so the curse was finally broken.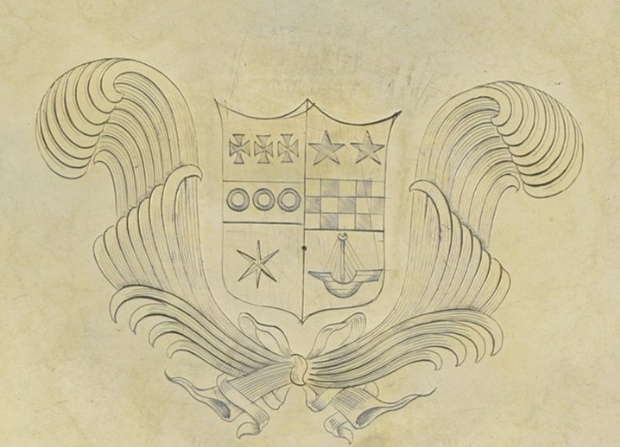 Engraving of the Coat of Arms of Mercer impaling Stewart for Sir James Mercer
His only son Charles was christened in June 1667 in the presence of his godfather, the king, whose gift of 80 ounces of gilt plate to mark the event is recorded in the Jewel Office warrant books in the National Archives. Writing afterwards to his father-in-law, Mercer recalled that "His Majesty on the occasion was very jovial, without any sort of drinking". This elegant ewer was part of that royal gift.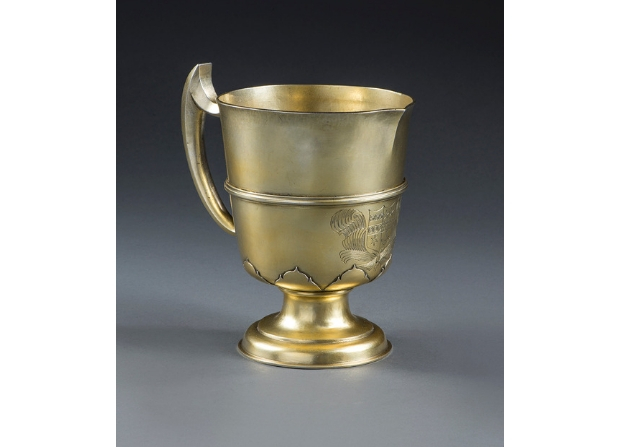 The ewer on pedestal foot, the body engraved with a coat-of-arms within a plume cartouche above cut-card trefoils, hard-shaped handle. Silver-gilt, London circa 1667. Maker's mark "HW", an escallop below for Henry Welch.
The same maker's mark has been recorded on an otherwise unmarked Charles II silver two-handled porringer and cover of about 1670, engraved with the arms of Ralph Cotton of Bellaport, co. Salop and Newcastle-under-Lyme, which was sold at Sotheby's, London, on 24 March 1960, lot 40.