BACK TO LIST
Flavoursome History of the British Pastime: Afternoon Tea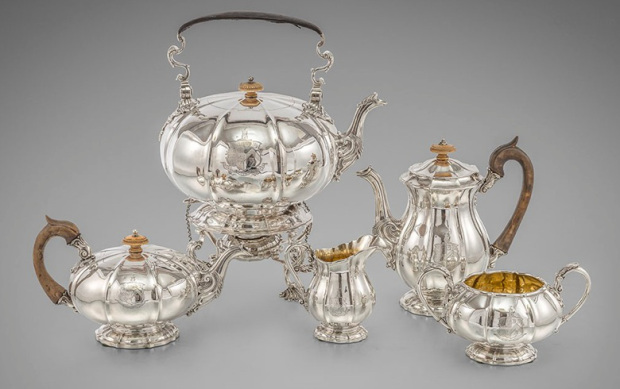 William Elliott (1762 – 1854) A Fine George IV Five Piece Tea & Coffee Set, London 1822
Did you know it is Afternoon Tea Week ? Not that I need an excuse to go for afternoon tea. A popular pastime deeply embedded in British culture. The popularity for afternoon tea is forever skyrocketing becoming more and more adventurous and extravagant. One can choose to have tradition afternoon tea at Claridges or step into the world of Alice in Wonderland's Mad Hatter's Tea Party at Sanderson's hotel. Even, a gentleman's afternoon tea at the Reform Social & Grill, situated in the Mandeville hotel serving duck scotch eggs with black pudding and roasted bone marrow. Weird and wonderful flavours are gracing our favourite pastime but where did this deliciously delightful tradition begin?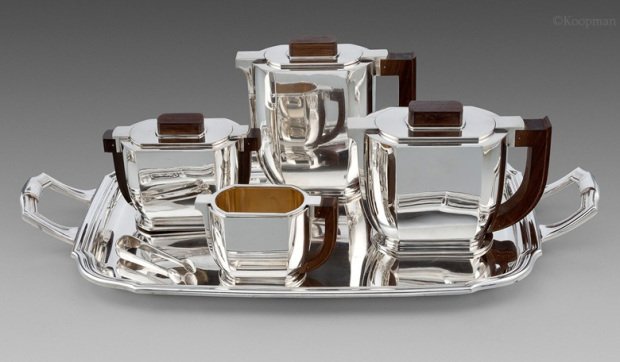 Tetard Freres, An Elegant Art Deco Tea & Coffee Service on Tray, Paris circa. 1930
While tea had been popular in the 17thcentury the tradition of afternoon tea which originated as a small bite to eat started much later in the early 1800s. Anna Russell, the 7thDuchess of Bedford has been labelled as the founder of the afternoon tea as an official social occasion. Evening meals became fashionably later as it became more cost effective to light the room with the introduction of gas lighting and as a consequence the time between meals became longer. The Duchess found the wait between lunch and dinner tiring, finding herself hungry in the middle of the day. The Duchess would invite her friends to enjoy tea and a bite to eat at Woburn Abbey. Being a very close friend of Queen Victoria and a prominent figure within the high London society the practice spread and became extremely fashionable amongst the upper classes. Tea rooms quickly became the place to meet friends in the 19th century and considered an appropriate environment for women to meet alone without male presence.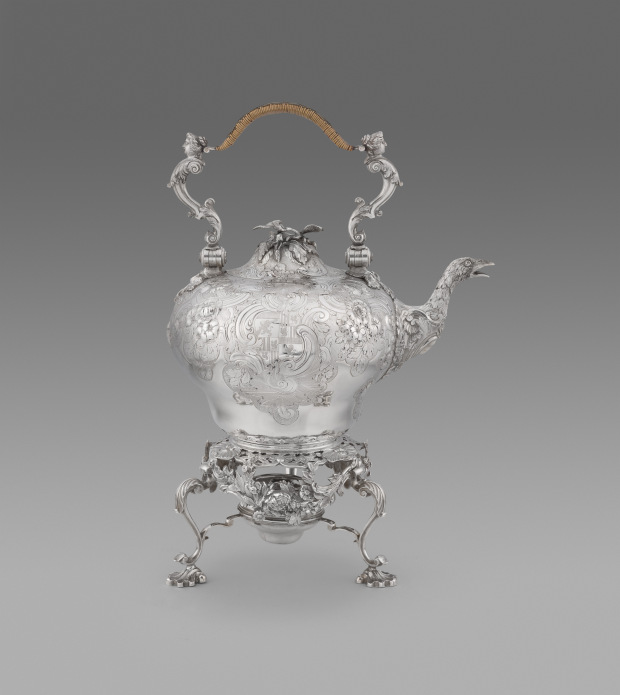 Thomas Gilpin, A George II Rococo Kettle on Stand
The tradition of tea and afternoon tea is more fashionable than ever. At Koopman Rare Art we have some beautiful tea sets perfect for any such occasion, let's continue the tradition and celebrate Afternoon Tea Week.
These works are available to view in our gallery located at Koopman Rare Art, The London Silver Vaults, 53/64 Chancery Lane, London, WC2A 1QS or on our website www.koopman.art.
For all enquiries please do not hesitate to call or email on:
0207 242 7624 / info@koopmanrareart.com