BACK TO LIST
Best of : Fine Art Asia, Hong Kong 2017
Last month we attended Asia's leading fine art fair, Fine Art Asia in Hong Kong. Koopman Rare Art have exhibited in Hong Kong since 2011 and have seen the fair grow from strength to strength. Our beautiful ewers by Edward Farrell printed on a huge scale looked fantastic at the entrance to the fair.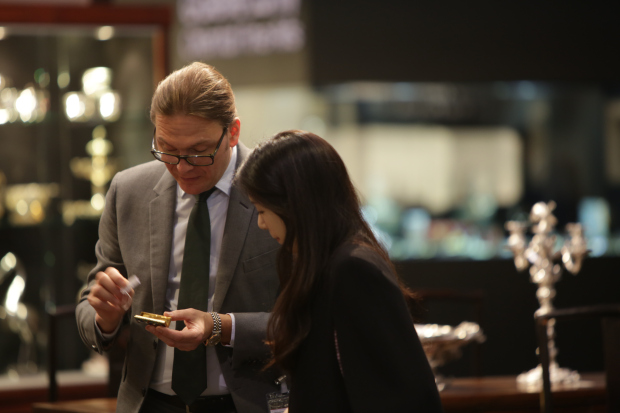 'We are delighted with the high level of positive interest in top quality silver as well as the number of sales achieved across the board'
Lewis Smith, Director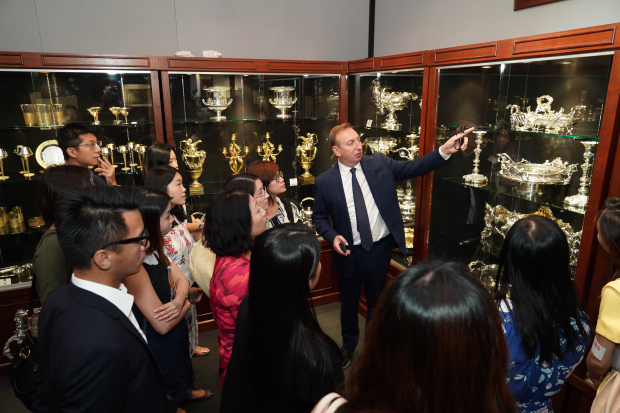 Lewis Smith, one of the directors of Koopman Rare Art, gave a guided tour of the Koopman Rare Art booth for UBS Global Art. It was a well attended talk and guests were interested in the history and glamour of the pieces.
This year we exhibited high quality examples of English and continental antique silver alongside a collection of over 50 pieces of Chinese export silver ranging in date from circa 1830 through to the first few decades of the 20th century.
'Not surprisingly, Chinese export silver generated a considerable amount of interest particularly by Chinese collectors who are keen to buy back what they regard as an important part of China's silversmithing heritage.' Lewis Smith, Director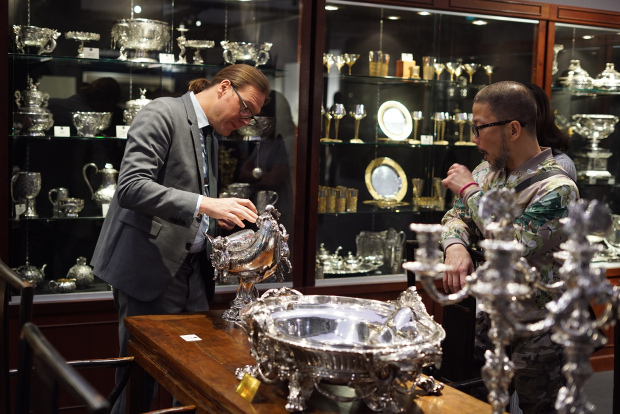 We had interest not only from private collectors who are becoming increasingly aware of their much-forgotten silversmithing heritage but we also sold several rare and interesting pieces to a museum in mainland China.
Among the highlights sold was a Chinese export silver canister bearing the retailer's mark of Cum Shing of Old China Street, Canton. The canister was ornately decorated with beautiful birds sitting in blossom trees together with climbing bamboo and chrysanthemum. The canister's finial in the shape of dragon, an important symbol in Chinese heritage representing the Emperor and a commercially attractive design for Chinese buyers.
Cum Shing, Chinese Export Silver Canister, circa 1880. Sold at Fine Art Asia by Koopman Rare Art.
Decorative silver proved popular and silver by renowned silversmiths such as Paul Storr continue to be sought after. We also sold a pair of Paul Storr entree dishes made in London in 1810. The covers engraved on each side with coat of arms, motto and supporters below a coronet for William, 1st Earl of Lonsdale the bases with crest and royal garters, 'honi soit qui mal y pense.'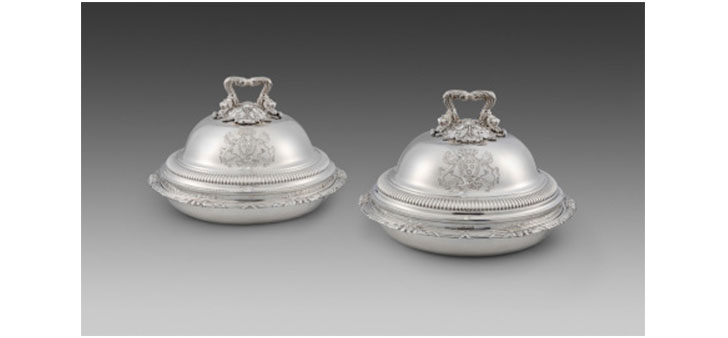 Paul Storr, Pair of George III Entree Dishes & Covers, London 1810. Sold at Fine Art Asia by Koopman Rare Art.
We invite you to visit our gallery located at Koopman Rare Art, The London Silver Vaults, 53/64 Chancery Lane, London, WC2A 1QS
For all enquiries please do not hesitate to call or email on:
020 7242 7624 / info@koopmanrareart.com