BACK TO LIST
Sweetmeats: Sugar, Spice & All Things Nice
John Henry Vere & William Lutwyche, A George III Silver-Gilt and Cut-Glass Nine Basket Epergne, London 1766. Available at Koopman Rare Art.
(PIctured above)
The word sweetmeat originates from Old English and was a sweet delicacy such as a preserve, candied fruit or cake. The popularity for sweetmeats grew as the demand for sugar increased. The introduction of sugar into the Western world not only changed cuisines and palates but lifestyle as sugar came to represent status and wealth.
Sugar was first manufactured in Asia circa 500BC. The production of sugar remained a mystery for many and it wasn't until the eleventh century AD that sugar was introduced to Western Europe. Sugar came to Europe as a result of the Crusades returning home with stories of the sweet delicacy described as 'new spice' and was first recorded in Europe in 1099. Once the Europeans had tasted the delicacy there was an expansion in trade, the commodity was high in demand and the supply flooded in at a very high cost. It is recorded that Columbus took sugar cane to grow in the Caribbean as early as 1493. During the mid-seventeeth century a large number of sugar plantations were founded in West India. This sugar trade resulted in over 12 million humans shipped from Africa to the Americas between 1501 and 1867 as demand for labour to cultivate sugar increased. This increase in production made sugar much more widely available and the fashion for sweet food came as a consequence to the supply of sugar.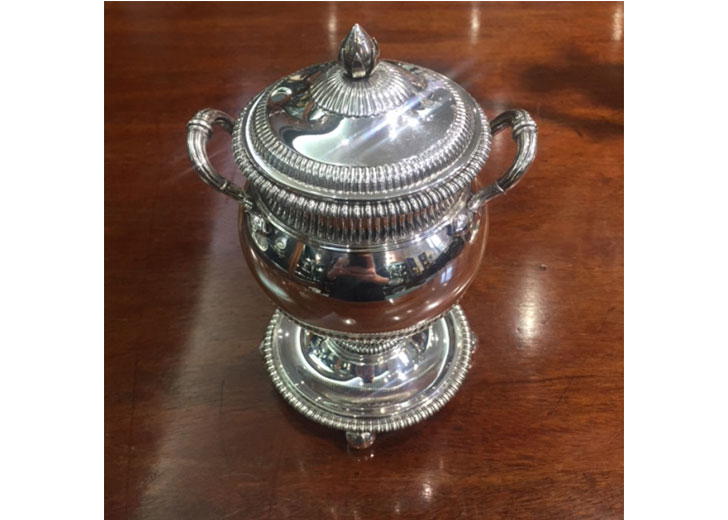 Digby Scott & Benjamin Smith, George III Sugar Vase, Silver, London 1805. Available at Koopman Rare Art.
Sugar became commonplace at the dinner table. It was initially served in boxes but this was not very convenient. Sugar casters were invented so sugar could be evenly dispensed and cast across the food. Casters are usually intricately pierced in the dome for even casting and solid bottoms to contain the sugar. By the end of the seventeenth century smaller casters were made for pepper and salt.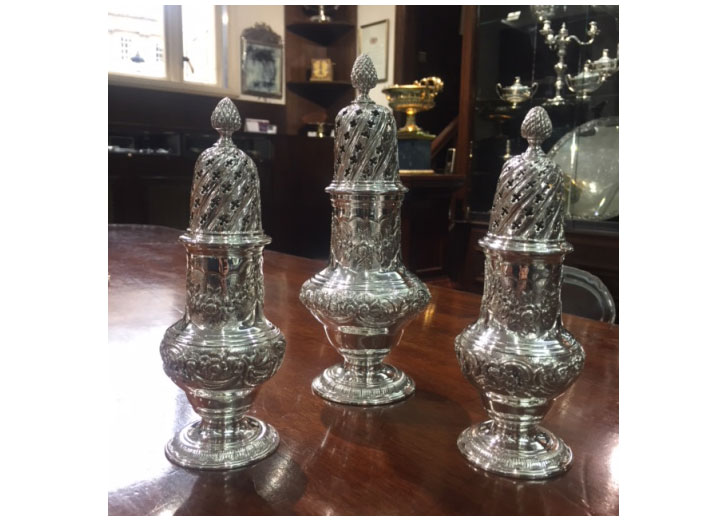 Samuel Wood, Three George II Casters, Silver, London 1750. Available at Koopman Rare Art.
Sugar, was an expensive commodity during the Renaissance and was used to display wealth and status. Banquets would include a course purely of sweetmeats, a particular favourite of Queen Elizabeth I. It was a chance to show off culinary skills and create showpieces from the expensive commodity. Sugared almonds and walnuts were a true delicacy. A popular sweetmeat was leech. Leech was made with gelatine, milk, sugar and rosewater it was then cut into cubes and sometimes gilded displayed as a chequerboard, the Renaissance English Turkish delight !
Gold leaf was used to gild lemons, other fruit and gingerbread. Pynade was a mixture of honey, spices and pine nuts which were firstly boiled in a pan and then baked over the fire until crisp. Crystalised fruits and candied oranges and citrus fruit were popular, even candied horseradish (most certainly not for the faint hearted). Leche Lumbarde was a 15th century recipe which was a type of date bar that could be compared to today's healthy energy bar. The dates were firstly softened in wine and then boiled together with sugar, cinnamon, ginger, ground bread and red sandalwood powder. The mixture would then be baked until dry.
Epergnes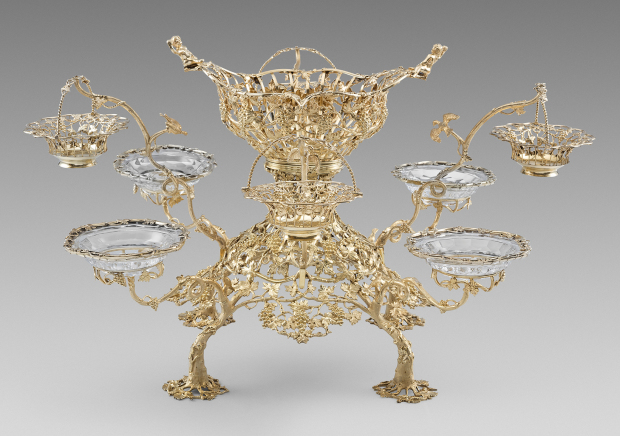 John Henry Vere & William Lutwyche, A George III Silver-Gilt and Cut-Glass Nine Basket Epergne, London 1766. Available at Koopman Rare Art.
An epergnes is a centrepiece that usually holds sweetmeats. The word probably originated from the French épargne meaning 'saving'. The idea was that each little dish held in the epergne could be passed around the table with ease, 'saving' larges dishes being passed around or waiters serving individual people around the dining table.
This magnificent silver-gilt & cut glass epergne was made by John Henry Vere & William Lutwyche in 1766. The central frame and each basket is fully marked. A fantastic centrepiece for any dining table and a perfect way to share deserts. The central basket was usually used to hold exotic fruit such as pineapples or flowers, but this is up to you !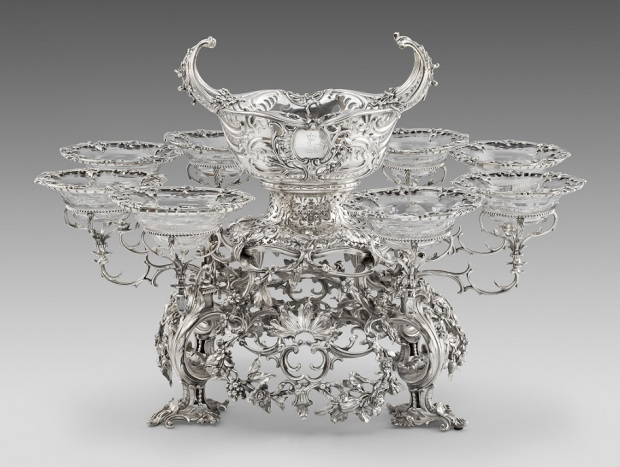 Thomas Gilpin, A George II Epergne, Silver, London 1757. Available at Koopman Rare Art.
If gilt is not your style then this slightly earlier epergne by Thomas Gilipin, bearing the crest of the Earl of Shrewsbury, may be more up your street. Once placed in the centre of the Earl's dining table we can only imagine the conversations which have been had and the sorts of people that have admired this beautiful epergne.
These works are available to view in our gallery located at Koopman Rare Art, The London Silver Vaults, 53/64 Chancery Lane, London, WC2A 1QS
For all enquiries please do not hesitate to call or email on:
020 7242 7624 / info@koopmanrareart.com