BACK TO LIST
TEFAF Maastricht 2019: The Verdict
We have just returned from an extremely busy and exciting show at TEFAF Maastricht. This years 2019 proved to be strong as ever.
TEFAF Maastricht, the worlds leading art Fair, continues to act as a beacon for the art market, welcoming around 70,000 visitors during the course of the Fair.
This year 276 exhibitors, of which 38 were new to the fair, show 7,000 years of art history across categories that cover fine art, antiques, jewellery and design.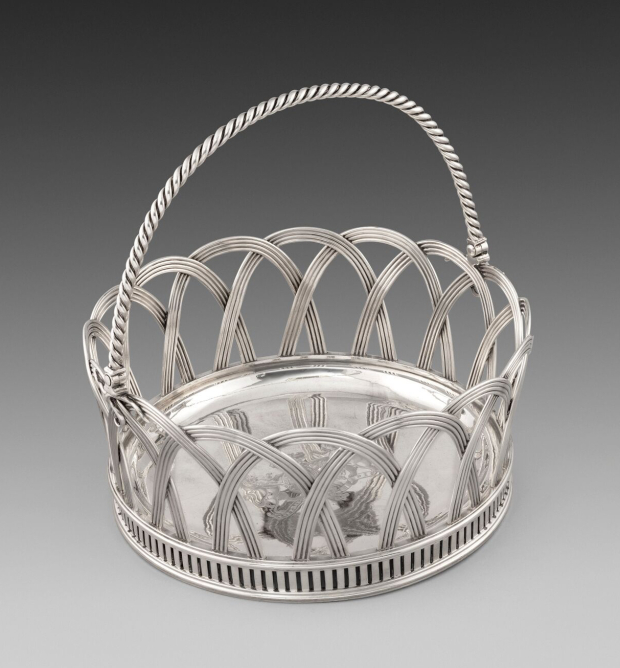 A Fine George III Bread Basket. Made in London, 1817 by Paul Storr for the Duke of Northumberland.
Interest in decorative arts & antiques were strong. There were substantial sales in early 19th century objects, particularly by Paul Storr including a rare basket (above) and a magnificent set of candlesticks (below).
A Set of Four George III Candlesticks. Made in London, 1808 by Paul Storr for Sir Henry Mainwaring, 1st Baronet of Over Peover.
Other noteworthy sales in 19th century silver also included this important and rare set of eight silver-gilt coasters (below). They bear the crest of Charles-Talbot, 2nd Earl Talbot.
A Set of Eight George III Silver-Gilt Coasters. Made in London in 1817 by William Burwash for Charles-Talbot, 2nd Earl Talbot
Interest in silver from this period was further enhanced with one of the fair highlights; The Shield of Achilles (below). Known as one of, if not, the most important silver-gilt objects to made in the 19th century, the shield attracted many visitors and museum curators alike. As part of the official TEFAF tour this silver-gilt masterpiece was viewed by thousands of people and gained much publicity.
The Shield of Achilles. A Highly Important George IV Shield for The King of Hanover. Made in London, 1823 by Philip Rundell
Important Rococo silversmiths were also incredibly sought after. Names like Paul de Lamerie and Eliza Godfrey have always been placed at the top of their category. This year we were fortunate enough to display and sell numerous objects by Paul de Lamerie. A rare pair of George II candelabra by Eliza Godfrey (below) also sold amongst other treasures from the Rococo period.
A Pair of George II Candelabra. Made in London, 1751 by Eliza Godfrey for William, 5th Earl of Dumfries
Within decorative arts, the objects of vertu gained much appreciation too. Austrian rock crystal, agate, gold and enamel objects that form part of the 'kunstkammer' collecting proved popular with visitors. Amongst our display of treasures were two of our highlights, both of which sold at the fair. (See below)
An Extremely Large Austrian Silver-gilt, Enamel & Gem-set New. Made in Vienna, circa 1890 by Hermann Bohm
A Fine Austrian Silver-gilt, Rock Crystal & Gem-set Conucopia. Made in Vienna, circa 1890 by Hermann Bohm
Our next event will be held in London at the Masterpiece fair in the grounds of Chelsea Hospital which opens for preview on 26th June and then runs from 27th June to 3rd July.